By N Oji Mzilikazi
12 July 2015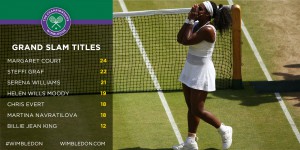 The default meter of greatness — for racists, is white. Consequently, the minute a Black athlete is a serious threat to a record held by a white person; racists get agitated and unleash their bias and hatred.
Hank Aaron received thousands of hate mail and death threats before and after breaking Babe Ruth's baseball record: "You are (not) going to break this record established by the great Babe Ruth if I can help it," one of them reads. "Whites are far more superior than jungle bunnies. My gun is watching your every black move."
Tiger Woods has long made it known that his dream is to surpass Jack Nicklaus' golfing record of 18 majors. And that has offended to no end. Woods has 14.
In an April 2009 article outlining why people don't like Tiger Woods, Tim Dahlberg, AP Sports Columnist included the following: "He's won enough" and "He scares people (his fellow players)."
In January 2008, Golf Channel lead anchor, Kelly Tilghman, suggested one way for young players to deal with the challenge posed by Woods would be to lynch Tiger Woods in a back alley.
Given that "lynching" and its symbol the noose was used to murder, intimidate, and terrorise African Americans for centuries, Tilghman's invocation of the term speaks volumes.
Tiger Woods last major was seven years ago — the 2008 U.S. Open. Since then Woods has been subjected to a world of injury, personal troubles and marital woes of his own making, and horrible performances on the greens. Woods is now No. 241 in the world golf rankings.
For having the audacity arrogance to pursue Nicklaus, the haters rejoice in and relish every bad minute or moment in Woods life, as well as his every misstep. Even players that were of no consequence on the tour joined in the feeding frenzy.
Ernie Els slammed Tiger Woods for his presser addressing his car accident and marital infidelity.
Els said that Woods doing so on the Friday of the WGC-Accenture Match Play Championship "takes a lot away from the golf tournament." Els called it "selfish."
Billy Payne, the chairman of Augusta National and the Masters ripped into Tiger Woods in his 2010 annual pre-Masters press conference. Payne's opening speech about Woods was unprecedented.
For all of Woods womanizing and infidelity, if Woods had cheated on his wife with men — and come out as gay, he would've been soundly embraced by the media a la Caitlyn Jenner. Tiger's infidelity was just a ruse for many to display envy and hate.
Serena Williams has repeatedly demonstrated she is a champion par excellence. Still, she has repeatedly been counted out of the game by those who ought to know better, as well as by the haters and those who don't like her.
Pat Cash is a former world No 1, a winner of several Grand Slam titles, and a Tennis Hall of Famer. Cash knows his tennis. Cash is also not a fan of the Williams' sisters.
While everyone is entitled to root for or against anyone, one would think the intelligent and those with access to a "bully pulpit" would refrain from casting aspersions, making innuendos against those they dislike or rile the illiterate. When it comes to Venus and Serena Williams, commentators and writers act as if they have a license to "pyss" on them.
In July 2000, Cash said the Wimbledon semi-final match between Serena Williams and Venus Williams was fixed by their father, Richard Williams.
So filled is Cash with anti-Williams bias, he does not recognize that alongside Serena's prodigious talents, Serena owns mental strength and have unbending intent and indefatigable spirit.
Ignorantly, Cash declares in The Times, January 14, 2007: For all her talk, Serena Williams will never return to the top again. Serena was then the world's 81st-ranked player.
Two weeks later Serena trashed Maria Sharapova 6-1, 6-2 in the Australian Open final that lasted only 63 minutes.
In his apology, Cash unnecessarily stated: I was not alone. Tracy Austin, who knows more about women's tennis than me, laughed at the suggestion that the former world No 1 had a legitimate shot at climbing back to the top.
Tracy Austin had predicted Serena will fall to top-seeded Sharapova in Aussie final. Austin stated with authority: "Sharapova is going to be a huge step up in class for Williams — too big a step in my opinion as I see the Russian taking the title."
Within minutes of Serena defeating Sharapova, MSNBC pulled Austin's article: Serena's improbable run to end. Clearly, it was to protect Tracy Austin's reputation. The Williams' fans that inhabited ESPN Tennis Message board promptly fired off complaints to NBC.
A loss by Serena to Justine Henin at the 2007 U.S. Open, prompted Sally Jenkins of the Washington Post to state about Serena:  Someday she may have to cope with the fact that real greatness isn't hers, but rather, just a whisper of something she overheard through a door she never entered.
Jenkins has a history of anti-Williams, and I daresay anti-Black tirades (Barry Bonds).
Jenkins went out of her way to excuse Michael Phelps when caught smoking out of a bong in 2009, and when caught driving under the influence in 2004.
One of the things Jenkins stated in regards to Phelps was: Being a champion is frankly not the most healthful career to aspire to; it's an abnormally stressful one. Yet, Jenkins had no qualms about crucifying Serena Williams for her U.S. Open outburst/manifestation of stress.
In the November 1, 2010, Bleacher Report, Anders Lammers emphatically made this declaration about Serena Williams: We'll never see her as the No. 1 again.
Serena has been No. 1 for 124 weeks in a row, and is 6,671 points ahead of current World No.2 Maria Sharapova.
The list of Serena and Venus Williams detractors is long…
In winning the 2015 Australian Open and 2015 French Open, Serena Williams is two Grand Slams behind the great Steffi Graf, and halfway towards a Calendar slam; winning all four Grand Slams in a calendar year.
The last person to win the Calendar Slam was Steffi Graf — in 1988. And in winning the Olympics that year, Graf owns the Golden Slam.
Not only does winning Wimbledon 2015 bring Serena closer to Graf, but it gives Serena four consecutive Slams; the "Serena Slam" — for the second time in her career.
Given the Wimbledon draw, and Serena's struggles at the French, even though she emerged victorious, fans that dislike Serena and fans that do not want her to reach and/or break Steffi Graf's record dreamed, hoped and prayed for an upset along the way. That upset nearly took place in the third round.
Serena's third-round match against England's Heather Watson started off as a routine Williams' win. The first set was over in 25 minutes and then — Watson won the second set playing inspirational tennis as well as the best tennis of her life. Centre Court was alive. The crowd now partisan was madly cheering for their home girl, rooting for her to send Serena packing, and some given to booing Serena.
Watson broke Williams to love to serve for the match. An upset was in the making… Watson was two points from victory — and just couldn't get it done.
While Watson's display of talent and skill in her match with Serena warrants the subsequent accolades, respect, and made Britain proud, the massive rooting did not all come from nationalistic pride. Some came from those who saw Watson as a foil to derail Serena's ambitions; bring her one win from tying Steffi Graf.
Why do I make such a claim? Two days prior to the Serena encounter, Britain's No. 1 female tennis player revealed in a post-match press conference that she has been a victim of social media abuse: I've had death threats. I've had people threatening to kill me and kill my family, wishing that I get cancer and die a slow, painful death.
What would prompt such haters to root for Heather Watson other than not wanting the most dominant athlete ever in the WTA eclipse their idol? Forget the "rooting for the underdog" canard. You would never hear fans and commentators rooting for the underdog to upset Maria Sharapova, Roger Federer, Novak Djokovic, Raphael Nadal, or former players like Steffi Graf, Monica Seles, Martina Hingis, Pete Sampras or Andre Agassi. Rooting for the underdog only comes into play when a Williams' sister is on court.